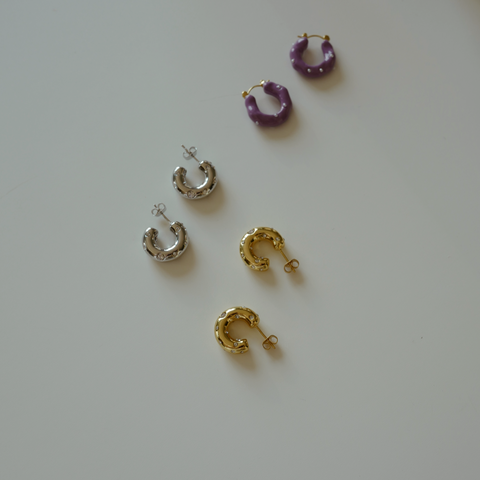 Mixing metals? Here's how to do it.
Mixing gold and silver jewelry used to be a big no-no in a lot of people's set of rules when dressing up. But as you skim through the looks of high end luxury brands and their shows, it is pretty common these days.
Keep in mind also, before I start, that jewelry is very personal and that you should wear what you think is pretty and feel good in, there definitely is no "rule" when talking about how to dress. This is merely just a guide.
Brands such as Bottega Veneta, Off-white and Jil Sanders are just some names who aren't strangers in mixing both silver and gold jewelries. Here's a short guide on how to do it :
Placement of jewelries

Consider the placement of your jewelries. Bear in mind that your neck, wrist, ears and fingers are some of the common areas where jewelries is being placed or worn. In order to look balanced and that each jewelry is intended for its placement, I would choose one area of focus.
For instance, say if you are looking to wear your gold wedding band, I would refrain from wearing a silver bangle. Perhaps opt for a daintier option. I would limit my heavy layering to just one section. Perhaps the neck.
Keep in mind of themes (do you want to do a flower pendant which exudes elegance and girliness? or a bold hoop to showcase simplicity?), sizes and textures as well. Make sure that your jewelry tells the same story. Nothing too far from one another.
Another example would be if you're wearing hoops, perhaps try sticking with a bold chain necklace and then layering it with your silver pendant necklace. Tres chic!
The right amount of layering. Creating the right balance.

Depending on the look you are going for, layering is a work of art.
Take the different lengths in necklaces, for example, this is the reason we added extra chain on almost all our necklaces.
For instance, when I layer a necklace with a charm (for instance remember Chizu? The cheese necklace?), I would add another necklace that is shorter with tiny diamonds/crystals. That way you have that elongated look from the Chizu neckalce (with the cheese charm as a focal point) and then layer it with a silver crystal necklace or a pearl necklace. Another option would be a simple gold hoop like Monroe, and for your second piercing, I would go in with a silver stud or a silver huggie or even an ear cuff. The options are endless.
Alternatively, it might look odd if you wear all gold earrings and necklaces, but all your rings are silver. I suggest mixing it up.
I love mixing metals so I would even get both colors of Monroe and when I am feeling funky, I would wear them mismatched for that extra edge, similar to what's seen on Off White's latest show.
Another tip but one that is super extra : Investing in other pieces that are intentionally mixed in metals.
If you're looking to explore more, there are accessories out there that can further complement your look. For instance, I can think about watches that have both gold and silver on them. That way, it transcends and flows seamlessly.
Last but not least, don't be afraid to experiment. Mixing metals can seem a little tricky at first, but always remember what I have repeatedly say : balance, balance, balance. Make sure there is no dominant color, just a nice mix.